Events
'Between Two Worlds' screened at Religion Today Film Festival
 Trento, Italy (Oct. 2012) 
Matmedia team were delighted that the film was accepted into this festival and that it was considered in competition in the documentary film category.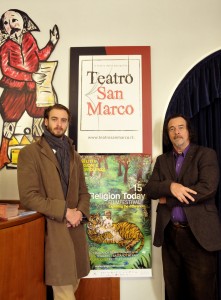 Between Two Worlds was screened on Saturday 20th October in the Teatro San Marco in front of an audience of roughly a 100 people. The director, Ovidio Salazar gave a short presentation of the film before the screening and then answered questions immediately after during a Q & A session.  The feedback offered by the audience was positive and insightful and confirmed that the film achieves its objective of highlighting Muhammad Knut Bernstrom's life's achievements. Questions raised demonstrated that the audience found the film enjoyable and engaging as it stimulated people to think about the topics contained in the narrative.
   _____________________________________________________________________

Between Two Worlds selected
for the 2nd Ruyesh Internatonal Film Festival
The Ruyesh Film Festival is a cinematic event focused on the fields of religion & cinema. This year, in its 8th edition, they have intriduced for the second time an international section under the title of "Islamic Awakening", dedicated to the works of filmmakers regarding this mostly touching concept. This year- the 8th Ruyesh Short Film Festival – features a number of films that deal with the precious concepts of Islam and the artistic promotion of Islamic thoughts and issues all around the world. Documentaries, short films, and animated films are featured that explore the diverse images of Muslims and reflect Islamic history, values, societal issues, ethics, morals, and more.
Matmedia's latest production Between Tow Worlds has been selected  for the 2nd Ruyesh International Film Festival and will compet in the "Islamic Awakening" Documentary section.
The festival will be held in Oct 30-Nov 3 in Mashhad in Iran.
___________________________________________________________________

'Between Two Worlds' to be screened at Religion Today Film Festival
To celebrate the anniversary of fifteen years of the Festival, Religion Today have chosen the following theme for this year's edition: Conflicts, Religions and (non-)violence. The festival will be running from the 12 to the 20 of October 2012.
The Religion Today Film Festival was born in Trento in 1997 as the first event of its kind dedicated to dialogue between cinema and religions.
Religion Today above all is a cinematic competition open to feature films, documentaries and short films which explore the various points of view on the existence of the divine according to different religions.
Our 75′ documentary Between Two Worlds portrays the life of Muhammed Knut Bernstrom, a career diplomat for the Swedish government, Bernstrom spent the later years of his life devoted to his religion whilst also producing his much admired Swedish interpretation of the Koran, "Koranens Budskap". Knut Bernstrom's work gave a whole generation of Muslims growing up in Sweden a new connection with their religion.
Matmedia Productions' Between Two Worlds is in competition and will be screened on Saturday 20 of October.

http://www.religionfilm.com/programmaENG.htm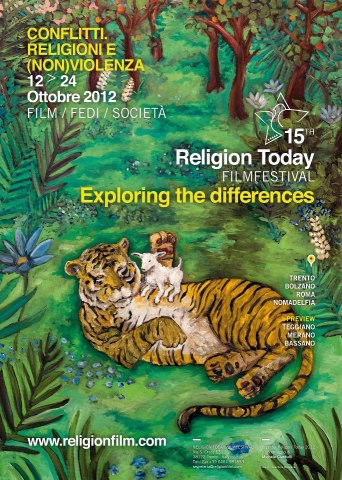 If you happen to be nearby you are welcome to join us for the screening.
Matmedia Team